When you mention Belgium, for most of us there are a few cities that spring to mind. There's the capital, Brussels, where the EU is based. Bruges, with it's many canals and pretty little squares. Antwerp and it's fashion scene, and Ghent. I'd booked flights to and from Brussels and intended to spend my full weekend there, but then people started to tell me Ghent was a far better city, so I started to look at spending a day in Ghent so I could see a bit more than just the capital. I didn't regret that choice. I did enjoy spending a day in Brussels too though, so make sure you give that post a read as well.
Ghent is known for it's large squares and it's canals. It's a very studenty city and the more I researched the more I realised it was my kind of city. Trains from Brussels to Ghent, about 10 Euros return, take approximately 45 minutes so it was a no brainer, and I so I planned my spending a day in Ghent itinerary as well as Brussels. Ghent can also be accessed easily from Bruges and Antwerp, so if you were in Belgium for 4 or more days, you could definitely see all 4 cities.
We arrived into the city by train and saw Queen Maria Hendrika Square just outside the station. It's a pretty, tree lined square with the most bikes I've ever seen. I'm not sure whether they're all owned, abandoned or a mixture of the two but it's definitely somewhere pretty to sit if you're early for your train. The square is also the public transport hub for the city, with the trains, trams and buses all going from this location. Sadly, we didn't figure out a tram to get us to where we wanted to go, so if you're aiming to cut out some walking I'd research this in advance.
We took an easy walk from the station to St Micheal's Bridge. On the way we passed Citadel Park and the SMAK Contempary Art Museum. Due to limited time in the city we didn't visit either but if you're there longer, the gardens are beautiful and free to walk around. Entry to the museum is 15 euros, 2 euros if you're 19-25 and free if you're under 19.
A central location, St Michael's Bridge lets you see Ghent's famous towers The Belfry, St Bavo's Cathedral Tower and St Nicholas' Church Tower. It's the only place in the city you can have a photo with all three, and I obviously took the opportunity to tick of the iconic Ghent photo here.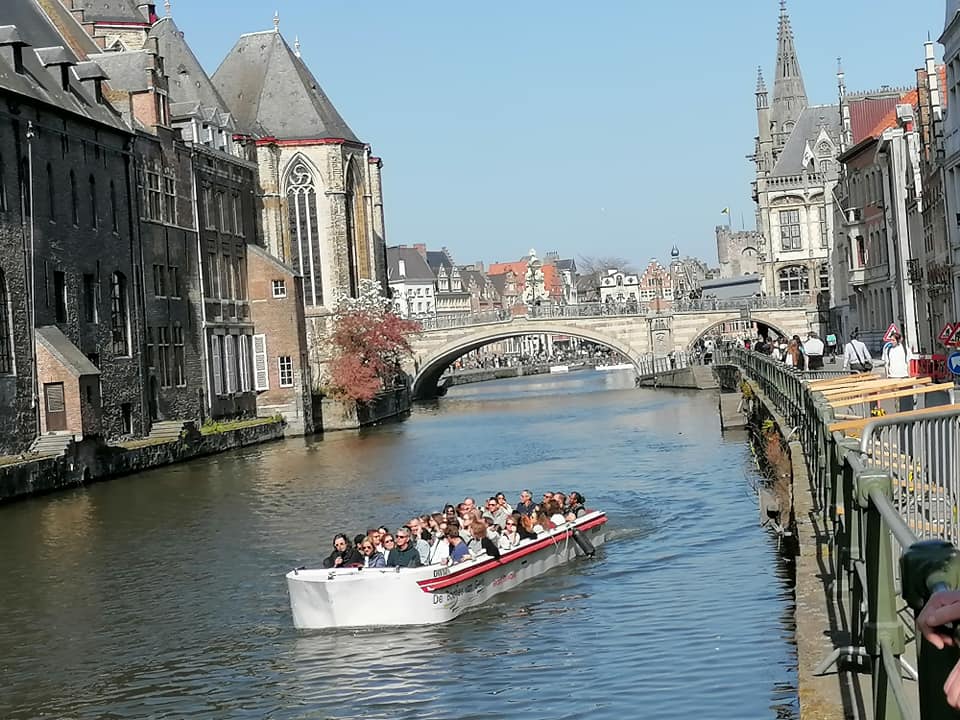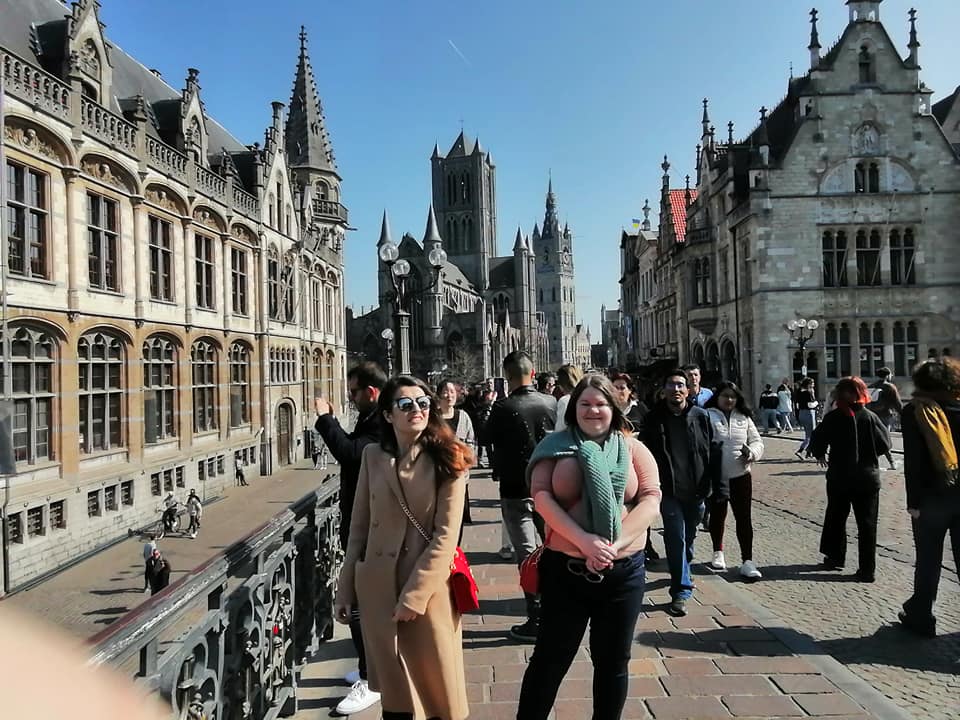 Standing on St Michael's Bridge you can see the back of Het Pand, the former Dominican friary which is now owned by the University, St Michael's Church, the Old Fish Market complex which now has the Ghent Tourist office, and you can even see the Castle of the Counts, Gravensteen, in the distance.
The Graslei and Korenlei, the beautiful waterfront with it's many pretty buildings and some bars and places to sit, can also be seen from the bridge, and once you've finished taking photos you can wander down here for a Belgian beer, a coffee or a boat tour. We spent a while taking in the atmosphere and soaking up the sun having a drink and spotting local dogs (we had left ours at home and were missing him!) before my favourite part of the day, our boat tour. You can find the tours on both sides of the canal and they leave regularly, every 20 minutes or so.
The tour, costing 8 euros each, took around 45 minutes and we learnt so much about the history of the city. The guide showed us which canals led to Holland, Antwerp, Bruges and other places, talked about the ships coming in in the past and where they'd go, and we saw parts of the city from the water. It was great to see The Castle of the Counts as we didn't make it down there on foot, and the tour also helped us to decide where we wanted to walk to once it was finished. If I'd had longer, I would have definitely gone to visit the Castle properly and had a look around inside.
After the boat tour I really wanted to go up the Belfry for some aerial views of the city. My Dad decided to wait for me at the bottom and I got the lift up (although did need to take the stairs to the first floor) because when travelling with fibromyalgia I need to save my energy whenever I can. It cost 8 euros to go to the top of the tower and you can see the Abbey inside for free, if that's your thing. There's a small museum upstairs and a few things to see, including a model of the dragon who sits on top of the Belfry building.
After I'd taken my photos, we went for lunch and sat outside eating and watching people walk by in the square. People watching whilst sat somewhere pretty is always one of my favourite things to do in a city so I took the chance to relax for half an hour or so before planning where to go to next…Graffiti Street.
Graffiti Street, or Werregarenstraatje, is an alleyway full of street art. There's some large sections that are a specific picture or design, and some just full of peoples' tags-the art is added to regularly by local artists and so it's an ever changing colourful spot I fell in love with. Street art is one of my favourite things to spot in a city and Ghent does have a street art map, but we didn't have the time to do this trail. I'd definitely add this to my itinerary if I find myself spending a day in Ghent in the future.
Because I had my Dad with me on this trip, I wanted to make sure we had the opportunity to try Belgian beer in a few different places. We'd (well, he'd) had a tasting metre of 10 different beers in small glasses in Brussels and I'd had a sip of each and realised I wasn't a fan, but I'd heard about De Duelle Griet, where you can drink a house blonde or dark beer out of a special 'MAX' glass, but you have to hand over your shoe as a deposit. The shoe is then put into a basket and a bell is rung as it's hung from the ceiling. I'm not sure Dad believed they would actually take his shoe but they did, and it was a fun thing to say we've done. Most people in the bar were wandering about in one shoe so it was definitely a popular drink.
Once the drinks were finished we wandered around the shops nearby and picked up some Belgian chocolate to take home, and some Cuberdon, the traditional raspberry flavoured sweet of Ghent. Turns out they actually do different flavours these days and we took home a mixed bag to try. They're delicious, a bit like fancy jelly babies, so do make sure you try some if you're spending a day in Ghent.
After a long day, and a very early morning the day before, neither of us fancied the 15-20 minute walk back to the station so we grabbed a taxi and headed back to catch our train to Brussels. We both agreed our day in Ghent was better than our day in Brussels and if you asked me which of the two you should prioritise, I'd agree with everyone who told me Ghent is the superior city.
I highly recommend visiting Ghent and I'd say you can see most of the city in a day. If I had another day I would have visited the Gravensteen, the SMAK museum and I would have also walked the street art trail and the coin route, a 1 km route showing where merchants would have gone in the middle ages as they travelled between Bruges and Cologne. Maybe next time!
Have you been to Ghent before? What would you recommend to add to a spending a day in Ghent itinerary?